Binance launches tradable tokens for Tesla stock
Unlike traditional stocks, an exchange token can be broken down into smaller, more affordable units, which means more users can potentially benefit from the return on equity.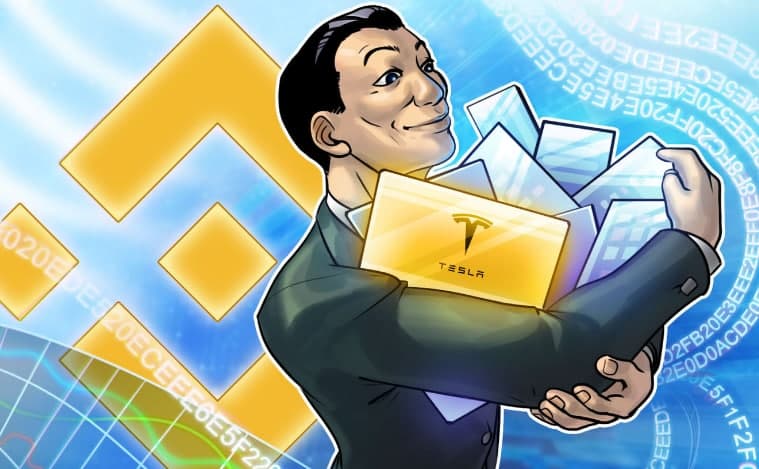 Cryptocurrency exchange Binance is launching exchange-traded stock tokens that aim to enable the broader public to multiply capital returns on stocks, including potential dividends, without having to buy full, traditional stocks.

The first tradable Binance token will be Tesla, whose share price is currently hovering around the $700 mark. Instead of buying a full, traditional stock, which requires holding a physical share certificate, users can purchase just one-hundredth of a share of Tesla represented by a digital token. Binance states:

"Each digital token represents one share and is fully backed by a portfolio of depositary securities that represent the outstanding tokens." Users will be able to trade fractional tokens."

Thus, one hundredth of a token represents the same share of Tesla stock, and share prices will be calculated in Binance USD (BUSD), pegged to the U.S. dollar and issued by Paxos Trust Company. The share tokens are not redeemable for shares.

Binance CEO Changpeng Zhao believes digital tokens will provide a bridge between traditional and crypto markets and increase access to equity markets, leading to a "more inclusive financial future."

The digital tokens will be traded commission-free, and the product was developed jointly with licensed German investment company CM-Equity AG and Swiss asset tokenization platform Digital Assets AG. Participation in their trading does not extend to restricted jurisdictions such as China, Turkey and the United States, and the Know Your Customer process must be completed to be eligible to participate in digital asset token trading on the exchange.

According to Monday's announcement, Binance posted strong results in the first quarter of 2021, with trading volume up 260% and the number of users up 346%. Meanwhile, the Binance Coin exchange token coin (BNB) has grown more than 900% this year.