Tesla accepts Dogecoin, what's the catch?
Dogecoin prices have skyrocketed due to a tweet from Tesla's CEO about buying Tesla products for Dogecoin. However, there is one catch! Tesla states that it will not issue refunds or accept refunds for purchases made in DOGE. There is no information yet on how many items have been sold for Dogecoin.
Tesla's website states that the company will not accept any assets other than DOGE. The page states that "digital assets other than Dogecoin sent to Tesla will not be returned to the buyer."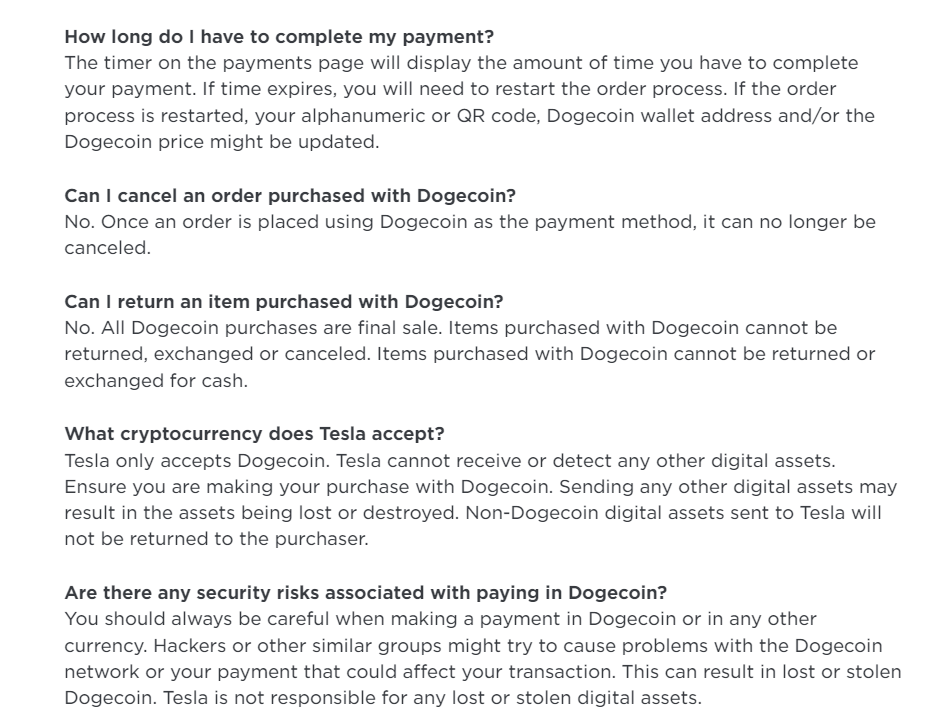 However, Tesla's proposal has other advantages. Tesla will accept cryptocurrency as payment for a small number of products. Reuters has confirmed that these include a belt buckle, which Tesla produces under the name "Giga Texas," as well as a whistle and mini-models of its electric cars.
Details have emerged about what customers can buy from Tesla for Dogecoin.
According to CNBC, details have emerged about what customers can buy for Dogecoin. In the past, Musk has caused Dogecoin's value to skyrocket and has often made headlines with statements that seemed to show his love for the meme-based coin. He also ran a poll asking whether Tesla should accept Dogecoin to buy Tesla products. When it was published, there were more than 3.9 million votes, of which 78.2% said yes. Musk's tweets often caused the value of Dogecoin to skyrocket. Because Dogecoin is a meme-based coin, its value often depends on hype and discussion on social media.
According to CNBC, Musk's tweets and a surge of interest from a wave of novice investors often caused a speculative frenzy for the cryptocurrency earlier this year and drove its price up. Musk's recent tweet led to a 15% jump in the value of the meme-based coin.